Every so often we like to focus on one of our guides. These are the face of Singabites and the ones whos hard work and dedication make us the successful team we are.
Mel sat down with Salma, our very own Spice girl……..
So I sat at a nice Indian coffee shop, Gayathri Restaurant located at the intersection of Amoy Street and Telok Ayer Street. I was mentally preparing myself for what Salma would look like. Perhaps, someone dark browned skin who probably as her name suggest comes from a Malay descendant.
While waiting, I had a cup of hot Teh Tarik and before I could get a quarter of my drink done, a lady in orange, very petite and of aged walked towards my table. It was then that I knew this is her, Singapore's Original Spice Girl, Mrs Salma Moiz.
She was not from a Malay descendant, in fact, she is an Indian Muslim. What surprises me more is, at 76 years old, she is actively participating in Singapore's historic preservation.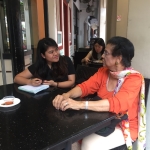 So you may ask, what's her story?
Salma was born in India. At the age of 9, she moved to Singapore after her late dad was offered a job here. At 9 years old, she was staying at Market Street. She stayed there for about a year before shifting to Katong, Haig Road where she spent most of her life.
Her father partnered with her future father in law to start a company as spice merchants. With five thousand dollars capital, they set out to start a business. It was successful, to say the least, Salma owes much of her knowledge to her incredible childhood growing up with spice merchants.
Just like any young Singaporean, right after O levels, Salma had a dream of being a doctor. Unfortunately for her, she was not able to pursue it. She got married before she finished her A-levels and she had no choice but to become a housewife as part of her tradition.
When I asked her, what made her join tours? Without hesitation, she told me she is a people person. Back when her daughters brought friends from overseas, she would show them around and be doing it for free. So she knew, right there and then that she enjoyed the nature of the job. She enjoyed telling stories and sharing the beauty of Singapore's transformation.
So back in the early 2000s, Salma started a small company with a few friends, creating walking tours and did research on our small land. Not all took flight, but she got her Singapore Spice Girl title from one of her best tours, "The Spice Tour".
She created the spice tour with the intention of providing an experience that is beyond what you can see. With the knowledge she had from her younger years, she brought guests through Singapore Spice Route and explained the history.
I was blown away when she said that Market Street was the original Little India. It was not Tekka or Race Course Road but Market Street. She mentioned that in 1822, many south Indians were occupying the Malacca Street down to the Market Street, most were spice merchants and there were trade and commerce. She said that during those days, there were many Indians along Market Street just gossiping, trading and such. But when the Indian convicts were instructed to work near Buffalo Road, around Race Course Road and along Serangoon Road that naturally turns that area into what we know as Little India today.
Salma has been doing tours since 1993. For 25 years being in the industry, she enjoyed every bit of it. She's met a lot of people from all over the world and enjoys telling stories. When asked what is so interesting about it, she said with a smile, "I live through it". It is her own personal experience that makes her tours authentic.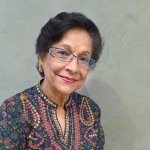 Salma has her own view on Singapore's unique culture, she said, "Singapore is unique. Firstly, the word Singapura comes from India. Well, many are shocked but it really goes back to the Sanskrit. Our anthem is in Malay. Our majority population is Chinese. And we all speak English. How unique is that?"
By now, my cup of Teh Tarik was already empty but my ears are dying to hear more stories from her. She went on to share her unforgettable experience conducting a tour. It was back to one of her early tours, her guests were a VVIP Jewish couple from Las Vegas. She said, "the couple had a huge fight while they were on the tour over a small misunderstanding".
Salma tried to help the couple reconcile, she felt like she was a Tour Guide cum Marriage Counselor. Unfortunately, the situation did not resolve and the couple ended up separating ways. Although Salma was not able to resolve the situation, she felt the incident was unforgettable. How often do we meet couples that fight while on vacation right? Hmm…
Before I ended the interview, I had a burning question. Salma and I were obviously from different generations, but I wanted to know how she feels about my generation and how my generation could be more involved with our history. What she said took me by surprise.
Salma paused and looked at me. She went on to say, "Millennial need to sit down and talk to the older generations. Everybody has a story. Ask lead questions, the right questions and there are always stories. It doesn't have to be from successful people, in fact, not successful people have so much more interesting stories to tell."
It took me by surprise. It was at that moment I realize that indeed there was so much that my generations do not know and we are so caught up in the fast-moving society that we forgot all about our roots. It was mind opening, at least for me, to know that they are people who are actively trying to tell our history to the generations ahead.
It is scary to know that one day, these veterans will no longer be around to tell those stories and these stories would be left untold as young generations become ignorant of their roots.
What would happen to the history of Singapore here on?
Just like that, there's a newfound respect for this veteran. Just over 60 minutes, Teh Tarik interview, I learnt so much that I could never ever learn from textbooks. Salma is one of our active guides on Singabites! Her gentle and sincere heart would touch your hearts making your tour authentically Singapore.