Singabites Culture guru Mel talks about one of Chinatown's longest standing family businesses….
If you are looking for something valuable to give someone this Chinese New Year, read on to find out where you can get a gift that you can never go wrong with.
In 1822, Sir Stamford Raffles decided to reorganize the population of Singapore into respective groups/ethnicities. In Chinatown each area was allocated a different Chinese community.
With such allocation, there were occupations associated with the respective dialects too.
Right about this thought, I was standing right in front of one of Singapore's hidden gems, The Heart of Love. The light pink walls with yellow pillars definitely made it stand out along the roads of South Bridge. Standing at two storeys high, this building instantaneously brings you back to old nostalgic times. With the old font signage, the bright colour pillars and obvious long panel windows, we know it was built around du the 1820s.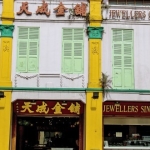 Photo credit: http://tinsing.com
TIN SING GOLDSMITHS
One of the oldest goldsmiths existed in Singapore. Tin Sing Goldsmiths started a small goldsmith shop in 1937. Gold carries a significant value and is still considered an heirloom that will be handed down, generations after generations. Trust me, I have a pair of gold earrings from when my Grandma was 21 and it has been passed many generations before me.
So they dedicated their lives to providing jewellery that is both an art and a legacy. It is said that their steadfast integrity and superior craftsmanship is what got customers returning till today.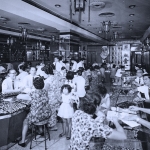 Photo credit: http://tinsing.com
While it is not as busy as it was back in the days but the interior of the shop remains little to no changes till today. Okay, maybe there is an addition to air conditions, flooring and internal pillars. Other than that, everything remained the same. I mean, at some point, things have to go through maintenance check right? Hah, but other than that, this place looks just like before.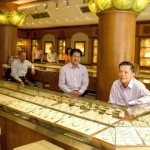 Photo credit: http://tinsing.com
Tin Sing Goldsmiths still opens their door every day except Sunday from 10 am – 6 pm. You can pop in to check out this 81-year-old building or just admire the beautiful building that will transport you back to the grittier days of Chinatown! It is located right beside Chinatown Square along South Bridge Road.
Interested in knowing more about Chinatown and it's hidden gems?
Book a tour with us today and let the exploring begin!