We sent our Culture Guru Mel out on a fact finding mission in Singapore's Eastern suburbs………
Have you heard about Roxy Theatres?
Well, if you are born in my era where Singapore is already established then you probably only know Grand Mercure Singapore Roxy hotel along East Coast Road.
I recently visited that area, getting myself a bowl of Katong Laksa after reading about laksa feud (shall write on this some other time) . I was enjoying my delicious bowl of laksa when tales of Roxy Cinema began.
Mr Chia Hong Min, 76 years old, a retiree, was seated at the laksa shop about a table away from me. He started talking about how he met his late wife, opposite the road, then Roxy Cinema.
Roxy Cinemas opened its doors to the public on 17th February 1931 by Mr Low Peng Soy. It once stood opposite the popular Red House Bakery.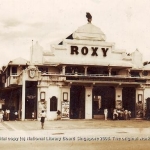 The history has it that Katong residents enjoy watching the cinema. Back in those days, both weekend mornings and nights are equally popular with people rushing to "chope" their seats by tying handkerchiefs on the wooden chairs' armrests as a form of reservation.
Being the first cinema in Katong, it was a haunt for the youth, especially among the Eurasian students. It was a landmark institution screening Chinese, English, Malay and Hindustani movies in early and mid 20th century.
For Mr Chia, it was more than a cinema. It was where his first date with his wife took place. He said that between the late 1950s to early 1960s, this area was his hangout area. Mr Chia said during the weekends, there would be loads of teenagers and couples flooded outside the cinema. Back then, he said, a movie would cost about $0.50 cents.
He mentioned that Saturday mornings, at the Red House Bakery, he would see families and young couples exiting. And when I asked, if it was true matchmaking took place in the Red House Bakery, he did not deny.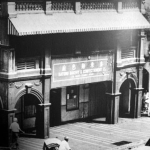 Mr Chia's parents were Chinese traders that own a Chinese Herbal Shop that was later closed for good in the early 1990s. It was safe to say that Mr Chia came from a well to do family, which resulted in him meeting his late wife in this area.
Roxy Cinema ceased operations on 1st August 1978. Shaw Brothers who owned the ownership of the cinema sold it off in 1977. Today, Roxy Square still stands on the land, which the cinema once stood.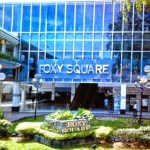 Roxy Square still has operating stalls and you could still see old hawker stores from the outside, the older generation still sees it as Roxy Cinemas. I visited the mall and interestingly, there were several operating stalls and a handful of people. There were salons, nail parlour, agencies and such. And right at the back of the mall is a connector into Grand Mercure Singapore Roxy Hotel. It is also the home to Jangutt's original Katong Laksa.
It was hard to picture back in those days, this place, Roxy Square was a hip and bustling place with youths catching the latest blockbuster.
Have you been to this cinema back in the days?
Share with us your story!
Curious to see this historic place, join us on our morning Katong Tour as we will sit down for a bowl of original Laksa in Roxy square itself !