Singabites culture guru, Mel talks about one of Singapore's favourite snacks.
During Chinese New Year season, many bakeries in Singapore starts selling this buttery pastry with a sugary pineapple filling we call, Pineapple Tarts. I never knew why these pastries are so significant for the Chinese communities.
Coming from a Malay background, my mum would make kuehs for Hari Raya Puasa and Pineapple Tart is a must have. I could still remember in my primary school days, my mum not only makes pineapple tarts during Ramadhan but I could smell the aroma of the pastry even during Chinese New Year period. My mum would take orders from her Chinese colleagues and bake this pastry.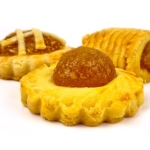 My mum always says, "The secret to a good pineapple tart is a balance between the pastry and the filling." Back in those days, many households or bakeries would grate their own pineapple paste. Today, we can purchase them at the nearest bakery shop.
The elements of a good pineapple tart were not only the pastry and the filling but if it could melt in your mouth, that's better. Today, there are many shapes of Pineapple Tarts, some still retain the old flower shape, and others wrapped the pineapple with the pastry into a ball. Regardless, they still taste delicious!
Anyway, at a young age, I figured, everyone just loves the delicacy and would have it during festive seasons. Little did I know, in the Chinese community, the pineapple in the tarts symbolizes prosperity. The word "Pineapple" sounds like the arrival prosperity in several Chinese dialects (ong lai in Hokkien and wong lai in Cantonese).
With that, many households till today would include pineapple tarts in their circle or octagon shaped container consisting 8 compartments, which they refer to as "Ba Bao He" (Eight Treasure Box). Also, number 8 symbolizes good fortune.
Although my mum stopped taking orders, I figured it is only fair I share with you a place you could get your pineapple tart cravings fix or to fill your Eight Treasure Box for Chinese New Year!
You can get the freshest quality pineapple tarts from:
Pineapple Tart Singapore
14 New Industrial Road
#05-03 Hudson Industrial Building
Singapore 536203
Contact no: +65 84815596
Websites: https://pineappletarts.sg/